Woodland Park School Board Begins Search for Interim Superintendent, Sends 2023-24 Schedule for Public Review | Mail from Pikes Peak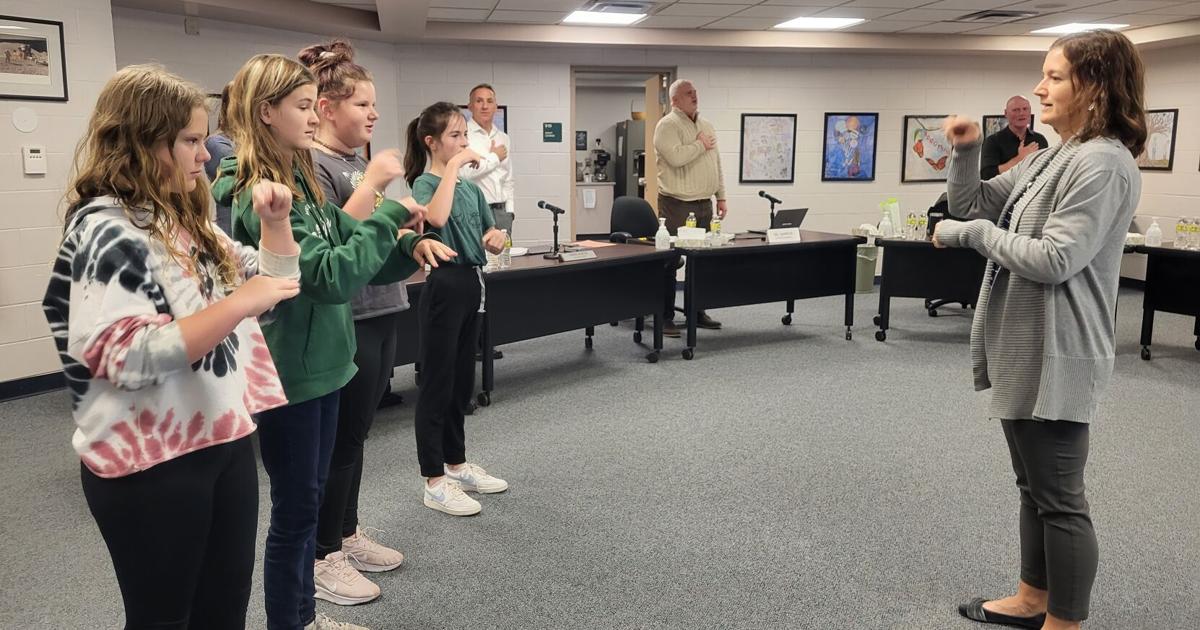 The Woodland Park School District's RE-2 School Board began its regular Nov. 9 meeting with a newly established tradition of inviting district students and members of local Boy Scouts and Boy Scouts to lead the Pledge of Allegiance .
Four students from Woodland Park Middle School – Reagan Duncan, Morgan Kietzman, Reagan Smith and Mae Vasek and sixth-grade teacher Amber Hemingson – led the Pledge using American Sign Language and their voices. Board Chairman David Rusterholtz asked them to repeat their signature so everyone could see better.
Another tradition initiated by this council is the reading of the preamble to the Colorado Constitution at the start of each meeting before the moment of silence that has been part of the proceedings for several years.
One of the first things the board did was file approval for the 2023-2024 district calendar.
"I get heartburn on this schedule," Rusterholtz said. "How does giving children days off a week at a time affect single-parent families and those where both parents work?"
"I would like to hear from more people – parents and staff," said principal Cassie Kimbrell.
District academic director and co-superintendent Tina Cassens defended the schedule, saying, "Families are booking vacations a year in advance and districts down the pass are following our lead with weekly late days and late weeks. four days. Preparing a new calendar for next year could take some time and it might not be ready until January – the sooner the better.
"It seems like a business opportunity for an entrepreneur to help parents babysit their kids during the days and weeks when the kids aren't in school," Rusterholtz said.
The board then turned two items of information on the agenda — updates from the superintendent's search committee and the committee on drafting board purpose and core values ​​language — into action points. .
Board Vice Chairman David Illingworth and Kimbrell presented options and a tentative timeline for hiring a new acting superintendent.
The board considered the information and consulted with District Attorney Brad Miller, who was in attendance, on legal requirements for meetings, interviews, nomination of finalists, and hiring.
Applications were posted on November 10. The application deadline is November 29. The board, with the assistance of the District Accountability Committee, will review the nominations, narrowing the pool to six or seven semi-finalists, interviewing the nominees, and nominating the finalists on December 7.
The names of finalists must be released at least two weeks before a superintendent is hired, and interviews with finalists are public, Miller said.
The board hopes to appoint an acting superintendent Dec. 21 to wrap up the school year and let co-superintendents Cassens and Del Garrick, who share superintendent duties, take over the duties they were hired to do.
"I want somebody to come in and make the changes that we need," Rusterholtz said. "I think we need someone who sees parents as our customers…someone who can get things done – a CEO or change agent."
"We can hire a change agent within the district," Kimbrell said.
"Everyone is welcome to apply," said director Suzanne Patterson.
Kimbrell added that the board can schedule as many meetings and business sessions as needed. "We will need a lot more meetings," she said. "We will also need a town hall and surveys.
Council Treasurer Chris Austin preferred to wait for public comment before starting the process, but agreed that a joint public meeting with the district accountability committee on Nov. 16 would suffice.
"We can view the application period as a time for stakeholder input," Patterson said.
Cassens asked the board to remember how busy staff and students in the district were in December.
"Traditionally, the hiring season (for the superintendent) starts in December, with hiring in February," Cassens said. "A lot of candidates have contracts to fulfill or have to give notice."
She asked the board when they would hire a permanent superintendent for the 2023-24 school year. Illingworth said it would depend on how things play out.
Miller said gathering information from the public made political sense, but the public's choice was made when the people elected each council member to represent them. "You can do whatever you want," he said.
The board moved on to the second action point, approving the board's statements of purpose and core beliefs after some edits and modifications.
"We take an oath and the teachers take an oath to uphold these constitutions," Patterson said. "People worry about 'subversive teachings' like Critical Race Theory and 1619. This (worry) underlies my reason for including the Constitutions and Declaration of Independence in our Statement of Core Beliefs."
Austin asked the board to allow more time for public input and voted against approving the purpose statement. The Board unanimously approved the Statement of Core Beliefs with amendments.
Statements will be posted on the school's website, wpsdk12.org, and will be added to the superintendent's application form.
Woodland Park High School Principal Kevin Burr reviewed opportunities for juniors and seniors to earn college credits, professional certifications, or prepare for a military career, while earning college credits. end of high school.
The district works with Pikes Peak State College, University of Colorado at Colorado Springs, Metropolitan State University, and several organizations that offer professional certification testing.
Burr said establishing a junior reserve officer training corps is on the table but could cost the district up to $100,000 to get started, depending on which branch of the service sponsors it.
In honor of Veterans Day, Woodland Park Education Association President Nate Owens paid a moving tribute to U.S. Army veterans.
Merit Academy Charter School Academic Director Gwynne Pekron provided an update on the academy's programs as it prepares to add a Grade 10 and students celebrate various achievements.