Missed rainy season hampers agriculture in northern Ghana – Agricultural Extension Officers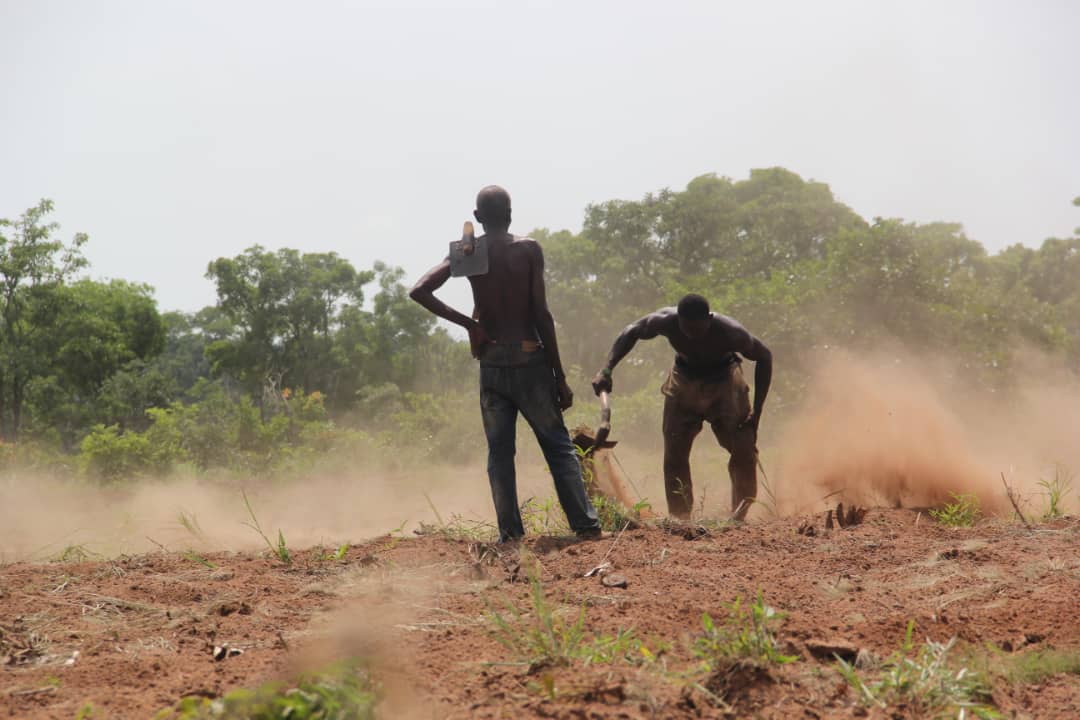 Agricultural extension workers in northern Ghana are devastated by the situation because they have been waiting too long for the rains to set in before the cropping season.
Affected areas include Bawku West, Zabzugu, Garu, Jirapa, Saboba, North East Gonja, Sawla Tuna Kalba, Kassena Nankana and Tempane among others.
They fear the scenario will impact food production this year, as many farmers have yet to start plowing for the season.
In East Gonja, apart from having to deal with long periods of drought, farmers are also struggling to adopt climate-smart farming methods.
Agriculture extension worker Anass George says the situation makes it difficult to change the narrative.
East Mamprusi's story is not particularly different. The rains came earlier than expected and farmers were able to plant their crops before they unexpectedly stopped. Since then, farmers have been waiting for more rains as they watch their young cereal crops wilt on their farms.
For areas where the rains stopped abruptly, farmers hoped to replant when the rains resume. Unfortunately, farmers may have to wait longer as it is unclear when to expect the rains; Musah Safiatu, an agricultural extension worker, said.
"It is impossible to predict when it will rain and when it will stop. The peak of the rainy season is impossible to predict," lamented the AEA of Jirapa Municipal, Adams Alhassan Waahu.
The water bodies that some smallholder farmers depend on have dried up, compounding the problem.
"When the plants were in flower, the rains came down in torrents, causing the three-month-old sorghum to fall," says Georgina Sabari, AEA, Kassena Nankana West District.
Madame Sabari says that the rains do not come when they are expected, but rather during the harvest season.
Mrs. Sabari and a farmer from the same district, Faustina Banakwoyem, paint a bleak picture of the management of post-harvest losses during this period.
Weather conditions in Ghana change. Since rain-fed agriculture accounts for a large part of the country's agriculture, changes in rainfall patterns have a significant influence.
It is becoming less and less predictable when the rains will start and when they will stop, leaving farmers always racing against time throughout the season, guessing when they can sow or harvest their crops on time.
The northern part of the country experiences only one rainy season, which lasts from May to September, but even this pattern is no longer guaranteed as rain delays and early cessation have become the norm in recent years.
"That's exactly what we're going through right now. The rain doesn't come on time, yet it ends so soon as expected. As a result, huge crop failures occur," Konlan Justice, Tempane District Management Information System Manager.
Other districts, such as Nanton, Tolon, Yendi, Kumbungu, Karaga, Mion, Mamprugu Moagduri, Saboba, Tatale-Sanguli and Builsa South and North, are in the same boat.
In Namumba South, Bongo, Nandom, Sisala West and East districts, farmers are praying for rain, but there doesn't seem to be any hope on the horizon at the moment.
The agony is felt by hundreds of farmers who feed thousands of families because the land is dry, dusty and barren. This is a worrying trend given that this is the peak growing season.
The causes of this problem are many and don't seem to be going away anytime soon.
Climate change has been a major source of concern.
Africa, according to the United Nations, is the continent most vulnerable to the impact of climate change, despite the fact that it accounts for only 4% of global carbon emissions.
Raising awareness of the plight of farmers in these districts would attract attention and help, but the most vulnerable may not be able to wait any longer as the situation worsens. This is why GASIP's timely intervention is commendable.
More than 90 farmers, agricultural extension workers and media practitioners from 36 districts across the five northern regions of Ghana spoke about the erratic rainfall in their communities in recent times at the Investment Program's "Building Champions in Agribusiness" event. in Ghana's Agricultural Sector (GASIP). Value Chains for Climate Change Resilience" in the savannah regional capital, Damongo.
Senior Meteorologist at the Ghana Meteorological Agency (GMet), Nana Kofi Opoku, said farmers' concerns will help them review their forecasts to provide the best possible information to farmers.
Mr. Opoku notes that GMet would continue to provide farmers with decadal and monthly forecasts to help them plan ahead of the season.
He agrees, however, that farmers may not be able to grasp the weather forecast due to the jargon used, but believes that using the media will greatly benefit farmers.
The technology and management methods developed by GASIP also arrived at the right time. These technologies have been shown to help farmers maintain and increase production.
Working with the Center for No Till Agriculture, GASIP trained these farmers on proper land preparation with no or minimum tillage, no burning, use of climate-resistant seeds, proper nutrient/fertilizer management and proper planting methods – correct spacing, row planting.
Others include proper and timely weed and pest control, timely harvesting of produce and good storage practices, diversified crop rotation, intercropping and cover crops, permanent soil cover with crop residues
The remainder includes live fencing, a ring of fire, group charter operation and no bush burning around the community.
Farmers, agricultural extension officers and the media have been practically trained to better understand these technologies and implement them in various districts.
National Program Coordinator for GASIP, Klutse Kumodor highlighted the need to implement these rich technologies for maximum yields.
GASIP's Climate Change Adaptation Manager, Dr Edmund Kyei Akoto-Danso says it is their wish that these farmers will emulate the technologies and encourage their colleagues to adopt them to mitigate the devastating effects of climate change.
GASIP is funded by the International Fund for Agricultural Development (IFAD) and implemented by the Ministry of Food and Agriculture.
GASIP's objective is to eradicate poverty in rural areas of Ghana by improving the profitability and resilience to climate change of agribusinesses and smallholder farmers.
GASIP implementation progress in the first four years (between 2015 and 2019) was barely 12%, which forced IFAD to terminate the program prematurely due to non-performance. .
According to Mr. Kudomor, less than a year after the current management took control in 2019, performance has increased from 12% to 76% in February 2020.
Accordingly, IFAD has upgraded the implementation status of GASIP from "not performing" to "performing".