Haribhanga farmers eye better prices as Covid restrictions ease
The popular mango variety will hit the markets on June 20
Haribhanga mangoes are seen hanging from a tree in an orchard in Chandipur village under Dinajpur's Phulbari upazila. The much-loved variety of the fruit is expected to hit markets after the harvest begins on June 20. Photo: Kongkon Karmaker
">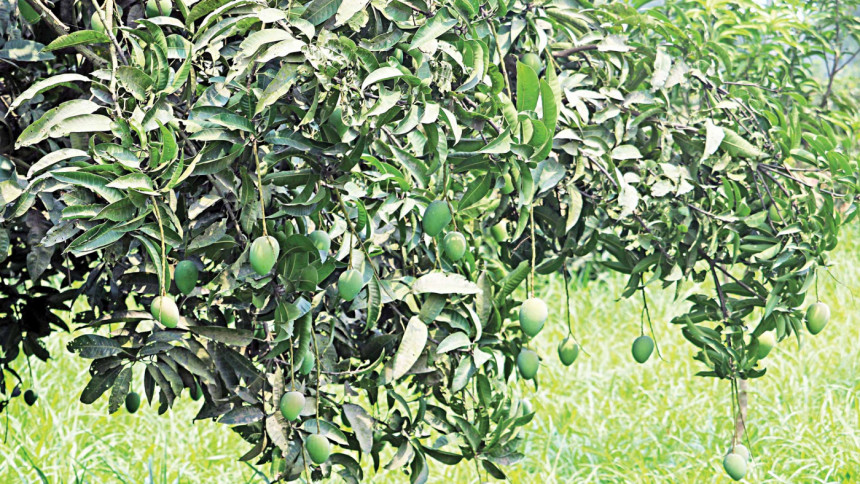 Haribhanga mangoes are seen hanging from a tree in an orchard in Chandipur village under Dinajpur's Phulbari upazila. The much-loved variety of the fruit is expected to hit markets after the harvest begins on June 20. Photo: Kongkon Karmaker
Harvesting of Haribhanga, a variety of mango native to northwestern districts such as Rangpur, will start in the formerly Monga-stricken region on June 20, according to local government officials.
Monga is a Bengali term referring to an annual cyclical phenomenon of poverty and hunger that occurred twice a year, from March to April and from September to November.
For all the latest news, follow the Daily Star's Google News channel.
Haribhanga mangoes, prized for their fiberless flesh, small seeds and unique sweetness, are usually harvested about two months late in the season.
But as the harvest date was set a few weeks early this time around, farmers and traders worked busy days to ensure maximum production.
Besides Rangpur, Haribhanga mangoes are grown on small tracts of land in adjacent districts such as Dinajpur, Lalmonirhat, Nilphamari, Kurigram and Gaibandha for their high demand.
According to the Agricultural Extension Department (DAE) of Rangpur, Haribhanga mangoes have been grown on 1,887 hectares of land in the district with an expected production of around 43,000 tons.
A number of DAE officials and farmers have said that the suitable climate and soil conditions in Rangpur make it suitable for growing this variety of fruit.
Thus, Haribhanga is grown all over Rangpur, but about half of the total production comes from Mithapukur and Badarganj upazilas, they added.
Farmers said that despite achieving optimum yields in the past two seasons, growers and traders were unable to make good profits as they were unable to transport fruit amid lockdowns imposed to curb the spread of Covid-19.
Thus, traders were forced to sell Haribhanga mangoes at very low prices in 2020 and 2021, when a kilogram of fruit was available for 40-60 Tk depending on quality, taste and size.
However, farmers are eyeing better prices this season as the coronavirus situation has now all but disappeared.
Nevertheless, the total production could fall by around 20-30% this year compared to the previous two seasons due to poor weather conditions, namely fluctuating temperatures during the budding season and untimely rainfall between March and April.
Rangpur's economy was previously in a bad state, with persistent famines being a never-ending problem for poor families in the area, especially those in the upazilas of Gangachara and Kaunia.
Various initiatives in the private sector and the implementation of government-run projects have helped to alleviate the situation, with the tailoring of Benarasi and Shataranji clothing items being the most effective initiatives as these two industries have created many opportunities for 'use.
Today however, Haribhanga has become the most successful cash crop in the district, as those who previously could not earn enough from other crops have become wealthy by growing the fruits.
Spurred on by the success of others, around 5,000 Haribhanga orchards have sprouted across Rangpur over the years.
Rawshan Ali, who owns an orchard in the village of Khoragachh under the upazila of Mithapukur, said farmers were delighted to see their trees bloom early this year, but their happiness quickly turned to frustration as the bad climate began to affect production.
"The situation is now stable and growers are expecting good yields and better prices after suffering two years of losses due to Covid-19," he added.
Ranga Mia, another farmer from the same village, said their profits depend on the current market.
"So we hope to make better profits despite the production shortfall," added Ranga, who leases a mango orchard with 54 trees for Tk 4.2 lakh per year.
The start of the harvest season also creates a number of other employment opportunities for locals.
For example, the demand for bamboo baskets usually increases at this time of year as they are used to pack and transport mangoes.
Many locals can be seen spending busy days making these baskets to sell at a wholesale market at Padaganj Bazar under Badarganj Upazila.
After encountering transportation problems for the past two years, the farmers have asked the local government to make special arrangements to facilitate the shipment of Haribhanga mangoes to other parts of the country. This includes repairing roads and providing rest areas as well as ensuring access to banking services.
Md Asib Ahsan, the Deputy Commissioner of Rangpur, was present at a recent meeting held at Padaganj Bazar, where he said an app would be launched on June 20 to facilitate the marketing process for farmers and traders.
Obaidur Rahman, deputy director of the DAE office in Rangpur, said each hectare of the total cultivated area will produce about 18 tons of fruit this year, providing farmers and traders with an opportunity to do business of Tk 200 crore.